IPDC signs MOU with FloWater Solutions Limited for Sustainable Financing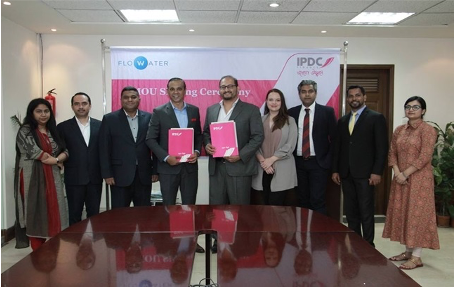 IPDC Finance Limited, the leading private sector financial institution of Bangladesh, has signed a Memorandum of Understanding (MOU) with FloWater Solutions Limited (FloWater), one of the leading Environment Companies providing effluent treatment plants (ETP), sewage treatment plants (STP) and water treatment plants (WTP). FloWater also offers Industrial Rooftop Solar for various factories with large rooftop space all over Bangladesh. The MOU signing ceremony took place at IPDC Finance Head Office.


Under this MOU, IPDC will offer financing and strategic support to sustainable energy projects in collaboration with FloWater Solutions Ltd. Also, IPDC will work to explore the possibility for collaboration on the industrial rooftop solar PV platform company promoted by FloWater in Bangladesh to offer an OPEX or PPA model for creditworthy clients.
Mr. Mominul Islam, CEO of IPDC Finance Ltd and Mr. Mustafa Azim Kasem Khan, Managing Director of FloWater Solutions Ltd signed the agreement on behalf of their respective organizations. The signing ceremony was also attended by Rizwan Dawood Shams, DMD and Head of Business Finance; Jumaratul Banna, Head of Local Corporate; Abdul Mabud Tushar, Head of Supply Chain Finance and Sajjad Hossain Chowdhury, Head of Channel Management along with other high officials of IPDC Finance Limited. From FloWater Solutions Limited, Ms. Anna Maria Ladosz, Co-Founder and Chairman and Mr. Ahamed Imtiaz, Co-Founder and Director were present at the ceremony.


Mominul Islam, Managing Director and CEO of IPDC Finance Limited said, "IPDC patronizes this collaboration with industry innovators. Sustainable Finance is one area where this sort of collaboration is much needed for ensuring better implementation. We are glad to be in partnership with FloWater Solutions Ltd, because such associations are the driving force of the building a "Green Bangladesh".


Mustafa Azim Kasem Khan, Managing Director of FloWater Solutions Limited said, "Bangladesh will become a leader in sustainability so FloWater must provide blended financial and technical solutions that are easy to adopt for industry owners. IPDC's role as one of our domestic development partners will accelerate the deployment of environment friendly projects and encourage other financial institutions to partner with FloWater for sustainable financing".


About IPDC Finance Limited
IPDC Finance Limited (previously known as "Industrial Promotion and Development Company of Bangladesh Limited") was founded and established by a distinguished group of shareholders namely Government of Bangladesh (Ministry of Industries and Ministry of Finance), International Finance Corporation (IFC), USA, German Investment and Development Company (DEG), Germany, The Aga Khan Fund for Economic Development (AKFED), Switzerland, and Commonwealth Development Corporation (CDC), UK. From the very inception, IPDC on record has been playing an instrumental role in building up the nation when it was in the phase of dire need. Yet again IPDC emerged to rise to the latent demands of the people, when the nation witnesses an era of exponential growth, which were least expected from any financial institution so far. It"s acting as a catalyst for expansion of industrial, commercial and educational sectors". BRAC, the largest non-governmental organization of the world came in the picture as the major shareholder of IPDC Finance Limited. Subsequently, IPDC formulated a long-term strategy considering the challenges and opportunities posed by the Bangladesh economy in next few years. IPDC has realigned their focus on nationwide spread with diversified services to steer up its next phase of growth. To become the most passionate financial brand in the country with special focus on youth, women and underserved areas. IPDC Finance Limited has setup a new road map considering the implementation of a set of new strategies for the upcoming years. These strategies include "A Home for Every Family", "Empowering Women", "Creating Entrepreneurs", "Beyond Mega Cities" and "Bring Convenience at Home". In line with its vision to be the most passionate financial brand in the country, it has embraced a new logo and a pay off line "Jaago Ucchashe" that speaks loud of its perception behind the revamp of IPDC. IPDC not only promotes its offerings rather provide financial assistance by guiding the customers to reach the best fit for them in any FIs or banks. This way IPDC serves its customers to reach their goals conveniently and live their life unbound.


About FloWater Solutions Limited
FloWater is a private EPC (Engineer / Procure / Commission) business in Bangladesh that works on a variety of water infrastructure projects. Founded in 2017, FloWater has delivered or managed over 150 projects including Effluent Treatment plants, (ETPs), Sewage Treatment Plants (STPs), drinking water plants, and other water solutions. FloWater is also developing renewable energy projects for industries including rooftop solar electricity mini grids and is experienced with both "water as a service" and "solar as a service" (Build/Own/Operate – BOO) and for hire financial models. FloWater also has expertise working with a variety of global partners, including international water services and engineering companies, and financial partners.