FloSolar Solutions Ltd. launched as an industrial rooftop solar platform company
FloWater Solutions Ltd. (FloWater), a leading water and wastewater solutions company from Bangladesh, in collaboration with Sharp Energy Solutions Corporation, Japan and CEMS Global organized a seminar on Industrial Rooftop Solar-CAPEX and OPEX Model.
The evening was also an introduction to the partnership between FloSolar and Sharp. Ms. Shoko Fukahori, Supervisor of Global New Business Promotion Division, Project Development unit made the key note presentation on behalf of Sharp Energy Solutions Coporation, Japan. Sharp has extensive rooftop solar portfolio in Asia and 60 year experience in developing solar technology.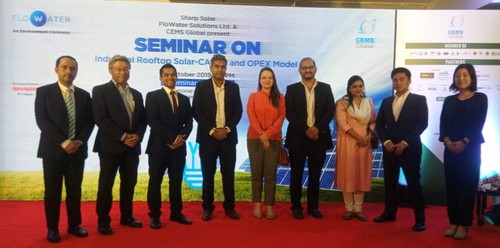 The seminar aimed to showcase the opportunity for investment in large-scale industrial rooftop solar projects. The evening was also the launch a platform company FloSolar Solutions Ltd. (FloSolar), to provide both the CAPEX and OPEX model for Industrial Rooftop Solar in Bangladesh to achieve the 10% renewable energy generation goal of Bangladesh by 2020. The seminar brought together a variety of national and international stakeholders to discuss the financing model and technology of Industrial Rooftop Solar; these include UNDP, Dhaka Bank Ltd., IDCOL, SREDA, BPDB, Sharp Energy Solutions Corporation, H&M and Marubeni Corporation.
Mr. Mustafa A. K. Khan, Founder and Managing Director of FloSolar and FloWater said "We have taken a major step towards providing a one stop and total environment solution to our clients that will integrate technology with financial solutions. FloSolar has been launched to build up a portfolio of 300 MWp industrial rooftop solar PV projects with bankable private and public offtakers. The Engineering Procurement Construction will be done by our global partners like Sharp Solar Solution Asia Ltd. with local engineering support from FloSolar."
FloSolar Solutions Ltd. (FloSolar) is a private limited company working on industrial rooftop solar solutions for a variety of industries with rooftop space. Founded in 2019, FloSolar is developing renewable energy projects in partnership with foreign EPC partners for industries including rooftop solar electricity mini grids and is experienced with "solar as a service" (Build/Own/Operate – BOO) and for hire financial models. FloSolar also has expertise working with a variety of global partners, including international engineering EPC companies, and financial partners.