Central Effluent Treatment Plants (CETPs) in Economic Zones will present large FDI opportunity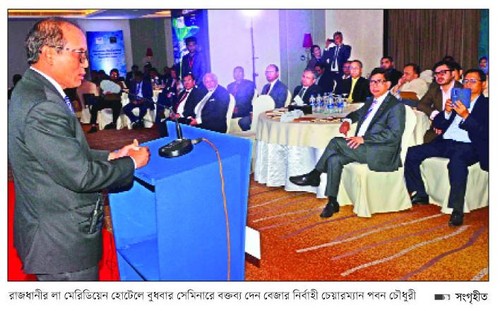 Dhaka, Dec.12, 2018 – Le Meridian Hotel, Dhaka. FloWater Solutions Ltd. (FloWater) of Bangladesh in collaboration with FMO, The Dutch Development Bank and Nijhuis Industries from the Netherlands held a seminar on Wastewater Management and Financing in Special Economic Zones. The seminar took place in response to the 100 special economic zones both public and private to be developed by BEZA.

The seminar brought together a variety of national and international stakeholders to discuss the financing and technology of central effluent treatment plants. These include BEZA, Marubeni, FMO, IFC, 2030 Water Resource Group, GIZ, KFW, SEAF Bangladesh Ventures. Several zone developers were in attendance including A.K. Khan Group, Ananta Group, Abdul Monem Economic Zone, Akij Group and Nitol Niloy Group.

The evening began with Ananta Group Deputy Managing Director Asif Zahir expressing an interest to partner with FloWater, Nijhuis and FMO to develop a CETP in The Ananta Textile Park. Other topics discussed included the environmental impact of effluent waste. Mustafa A. K. Khan, Managing Director of FloWater said "In the textiles sector the growth that Bangladesh has received is from this very critical sector but it comes at a cost which is water use and level of wastewater discharged." Further discussion was centered around the business case for CETP investment and the phasing of both the finance and technology to scale as zones are developed.

2030 Water Resource Group identified water challenges for Economic Zones driven by textile industry growth. Industrial water demand is expected to increase 109% by 2030, contributing to the water supply – demand gap. In response, BEZA requires all economic zones to have CETPs. These plants will have resource recovery through facilitating wastewater reuse across industries.


The evening concluded with a keynote speech by Chief Guest BEZA Chairman Mr. Paban Chowdhury where he stated " We have a very small country in comparison to160 million people, but it's a beautiful country. We cannot allow to destroy the environment, we cannot allow to contaminate the water."


The seminar aimed to showcase the opportunity for investment in large-scale industrial wastewater projects. The evening was also an introduction to the partnership between FloWater and Nijhuis. FloWater is a Bangladeshi environment company established in 2017. Their team have completed 100 projects all over Bangladesh. Nijhuis was founded in 1904 and has completed 2600 wastewater treatment projects and are based out of The Netherlands.